NEW LEADER, IFC SEOUL
IFC Seoul is located in the Yeouido financial district in Seoul, South Korea. It is a large scale commercial complex containing three office buildings (32 stories, 29 stories, and 56 stories respectively), the 434 room, 38 stories, Conrad Seoul hotel, and the world class IFC Mall.
IFC Seoul, owned by a fund of global investors, has the specific purpose to attract direct foreign investment to Korea. The prime office building spaces combined with world class architectural design and cutting-edge eco-friendly technologies result in a business environment that meets the needs and convenience of international financiers. IFC Mall, an international style shopping mall, offers a unique shopping experience and the Conrad Seoul hotel, part of Hilton Worldwide, delivers a smart luxury concept providing guests with the best hotel experience available in Korea.
Building configuration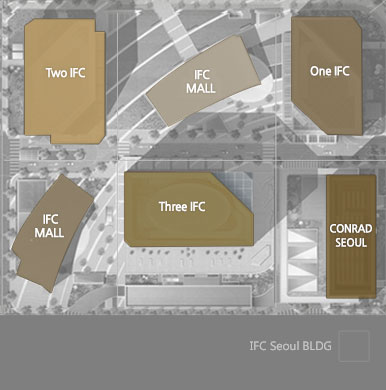 One IFC
(32 floors)
Two IFC
(29 floors)
Three IFC
(56 floors)
Gross Area (m²)
90,010.50
78,043.05
161,532.98
Height(m)
184.5
175.5
284.0
Completion
Oct 2011
Q4, 2012
Q4, 2012
Conrad Seoul
Hotel (38 floors)
IFC Mall
(3 underground
floors)
Underground
parking lot
(4~7 floors)
Gross Area (m²)
91,287.43
85,444.18
85,194
Height(m)
199.4
-
2,085 lots
Completion
Q4, 2012
Aug 2012
Oct 2011